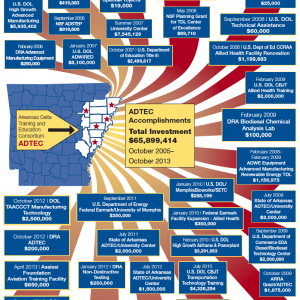 The Arkansas Delta Training and Education Consortium (ADTEC) was created in 2005 by five Arkansas community colleges in eastern Arkansas to use their collective resources to address current and future training needs of business and industry. The Consortium was first officially recognized with a $5.9 million U.S. Department of Labor grant to develop advanced manufacturing training capacity in the 12-county ADTEC region. Since that time, ADTEC has been successful in garnering more than $63 million in external investments, mostly federal, to support regional workforce development initiatives.
Purposes:
Provide a comprehensive regional approach to education and training
Share faculty, curriculum, equipment and best practices
Provide a broader range of services at a lower overall cost
Promote regional economic development.
ADTEC Colleges:
Arkansas Northeastern College, Blytheville
Arkansas State University-Newport
East Arkansas Community College, Forrest City
ASU Mid-South, West Memphis
Phillips Community College of the University of Arkansas, Helena
ADTEC has been named a Top 10 national finalist for the prestigious Bellwether Legacy Award, to be presented by the Community College Futures Assembly in January 2014.