Workforce Development Model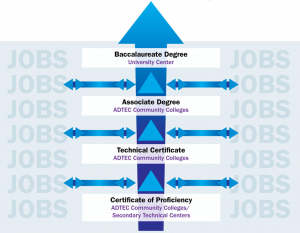 The award-winning ADTEC workforce development model is driven by continuous industry input and feedback. Program areas are identified that support emerging and demand industries that are key to the regional economy, such as advanced manufacturing and renewable energy technology. Industry input is obtained through mechanisms such as skills standards and competency surveys and facilitated DACUM (Developing A CurriculUM) processes.
Through these processes, industry identifies job titles, job competencies, technical and professional skills standards, equipment/tool standards and other relevant information that is necessary for the development of workforce talent in that specific industry. That information then becomes the basis for the design of curriculum, course guides, and equipment standards for the education/career pathway for that particular program.
During and after program development, industry continues to provide input and feedback through regularly scheduled Advisory Team meetings, review of program materials, involvement in revisions and updates regarding program/curriculum content, work-based learning collaboration, participation in training/re-training of existing workers, and involvement in other activities that support the program.
The ADTEC workforce development model includes a continuous trained worker pipeline. This includes three major resource pools for workforce talent development:
Existing workers
Unskilled and dislocated workers
High school students
The Workforce Investment System and One-Stop Centers provide a pool of unskilled and dislocated workers, and ADTEC has memoranda of understanding in place with each of the three Workforce Investment Boards in eastern Arkansas to formalize that relationship.
Each of the ADTEC colleges operates a secondary technical center on its campus, which allows high school juniors and seniors to enroll in the college-level programs developed for industry and earn concurrent college and high school credit. After completing the two-year program, most of the high school students will have earned a college certificate of proficiency upon high school graduation.
Career Pathway Model
All ADTEC initiatives are based on a Career Pathway model, which provides a career-specific seamless educational continuum that consists of multiple entry/exit points and credential attainment levels (certificate of proficiency, technical certificate, associate degree, and baccalaureate degree).
A student can enter a career pathway as a high school student, as a college student after high school graduation, or as an incumbent or dislocated worker.
At any designated exit point, a student can stop out of the program and enter the workforce with a college credential and industry-specific skills. The student can then re-enter the pathway and continue to work toward attainment of the next credential.
Secondary Technical Centers
Secondary technical centers provide career/technical education (CTE) programs to high school students within a 25-mile radius of a center location. The cost of operating and maintaining CTE programs is expensive, so a center's programs are a regional resource to the high schools in that particular service area. Each center enrolls students from several high schools, enabling those schools to provide their students with access to a variety of programs, including those that cannot be offered at the local level, thus eliminating duplicative expense. By participating in a secondary technical center, a local high school can offer six or more additional CTE programs of study at a greatly reduced cost.
Each ADTEC college offers concurrent credit through its secondary technical center, serving 2,140 students  in 26 technical programs in 2011-12. These students earned 10,662 college credit hours through concurrent credit programs, in one year representing a $786,458 value to the citizens of eastern Arkansas.
Secondary technical centers are operated under the auspices of and through funding mechanisms of the Arkansas Department of Career Education, with oversight by the State Board of Workforce Education and Career Opportunities.